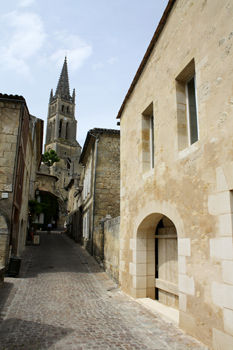 French Chateau Classification System
French wine is unrivaled in the world, priding itself on Bordeaux and Burgundy. In China, mention of French wine will remind everyone of Bordeaux. Medieval castles, beautiful graperies and roses around them are Bordeaux's traditional and quiet pastoral scenes. There are 14,161 hectares of graperies in Medoc which is located in Bordeaux and near the estuary on the left bank of Gironde, and these graperies best represents the subdivided growing districts with Bordeaux wine style. As is well-known to people that have some knowledge of French wine, the wine is divided into four classes - Vin de Table, Vin de Pay, Vin Delimites de Qualite Superieure/VDQS, and Appellation d'Origine Controlee/AOC. These four classes are prescribed by French law. However, in Medoc, besides the AOC class prescribed by law, official classes are specified by time-honored prestigious chateaux that persist in producing high-quality wine as always. The history of these classes is longer than the AOC system, starting for the commercial purpose of pricing and later serving as a guarantee of the quality of chateaux more often than not. The most important and well-known classification system in Medoc consists of two major classes - Grand Cru Classe or Classified Growths that involves 60 top chateaux there, and Crus Bourgeois that involves over 400 chateaux that produce high-quality yet medium-priced wine.
Grand Cru Classe
The chateau classification in Medoc may be traced back to 1663 when the purpose is pricing Bordeaux wine on the basis of the most prestigious chateaux with the highest quality and the highest price. In 1855 when Napoleon III was in power, His Majesty wanted to introduce Bordeaux wine to the whole world at Paris World Expo, so the emperor required the CVIB (Bordeaux Wines Council) to introduce Bordeaux wine and classify chateaux. This is tantamount to poking a honeycomb because every chateaux was bumptious but there was only one Expo winner. Consequently, the CVIB entrusted the responsibility to an organization of wine wholesalers - Syndicat of Courtiers. On April 18, 1855, Syndicat of Courtiers defined 58 chateaux as Grand Cru Classe according to the reputation of the then Bordeaux chateaux and the wine pricing of every chateau. The organization divided all the chateaux into 5 classes, including 4 First Growths, Premier Grand Cru Classe or Premiers Crus chateaux (Chateau Lafite Rothschild, Chateau Latour, Chateau Haut-Brion and Chateau Margaux), 12 Second Growths or Deuxiemes Crus chateaux, 14 Third Growths or Troisiemes Crus chateaux. 11 Fourth Growths or Quatriemes Crus chateaux, and 17 Fifth Growths or Cinquiemes Crus chateaux. This classification involved only the chateaux in Medoc except that Chateau Haut-Brion in Grave was listed in First Growths chateaux. At the beginning of classification, the chateaux in the same class were ranked in order, which received extensive criticism. Consequently, Syndicat of Courtiers wrote to the CVIB in September 1855, explaining there was no order in the same class, so the CVIB revised the list and ranked the same class of chateaux alphabetically, hence quieting down the criticism. After 1855, changes occurred to the names and owners of chateaux and graperies and even the quality of wine, some chateaux being divided and others being merged, but the classification was not revised accordingly. In 1973, the chateau classification was eventually revised and the chateaux, whether divided or merged, remained in the initially defined class except that Chateau Mouton Rothschild was promoted from Second Growths to First Growths on account of tens of years' efforts made by its owner Baron Philip. At that time, the number of First Growths chateaux increased to five, which are generally called "five major Bordeaux chateaux". As the inheritance of many chateaux caused division of property rights, the number of growths chateaux increased to 61 at that time, including 5 First Growths chateaux, 14 Second Growths chateaux, 14 Third Growth chateaux. 10 Fourth Growths chateaux, and 18 Fifth Growths chateaux, and this classification has remained unchanged until now.
Crus Bourgeois
When the classification system was carried out in 1855, a majority of Gironde chateaux were included, but some small chateaux were not well-known and produced inexpensive wine, so they were not included in Grand Cru Classe. After 1855, there were a lot of new chateaux in Medoc, so the classification system of 1855 became evidently incomplete. By 1932, 444 quality chateaux not included in Grand Cru Classe were rated as Cru Bourgeois. Now Medoc has over 400 Cru Bourgeois chateaux under 8 AOC appellations, whose output accounts for a half of that of the entire Medoc. The word Bourgeois appeared in the 12th century when Bordeaux was growing into a commercial city full of wholesalers and a group of people called Bourgeois (also called middle class). During British rule, the Bourgeois inherited their privileges existing in feudal times. After the Hundred Years' War, the French resumed their rule of France and the Bourgeois re-obtained royal permits and continued enjoying their privileges, including sword bearing and manor ownership. After centuries of international trade, the Bourgeois started purchasing a lot of real estate in Bordeaux and played an important role in Bordeaux's grape plantation and wine making afterwards. Until now, the Bourgeois has ceased to exist as a middle class. Instead, this word is often seen in Cru Bourgeois used of wine in Medoc, Bordeaux. The word usually appears on the labels of wine in Medoc and often means good-quality yet inexpensive wine. In foreign countries, common Cru Bourgeois wine is generally priced at USD15 or so and the better-known one at USD22 to 25, but the quality of much Cru Bourgeois wine is comparable to Grand Cru Classe wine.